this project was designed in the context of a research & development course at parsons.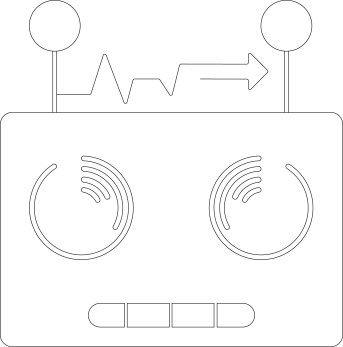 following extensive research around the relationship between the sciences & humanities field, we found that the key main problem faced today was the lack of collaboration and communication between scientists and ethicists. as we move towards a world where ai has a crucial role to play, the interaction of science with people from the humanities becomes necessary: it is only by creating a framework and determining where our limitations are that we will be able to keep control over what we create.

by interviewing and mapping habits of our key stakeholders (ai scientists, ethicists) we found two main insights that, in turn, fueled our reflexion around the topic:

1.
on the long-term, ethics do not slow down scientific innovation, but rather take it further by creating a framework.

2.
there is a lack of awareness & knowledge on the part of ethicists about the more advanced scientific fields.
this ultimately lead to our key interrogation –
how might we bring scientists and ethicists together to encourage long-term collaboration in their respective fields?

current solutions seemed inefficient: they are traditional conferences, summits, institution visits, with very little chance of real collaboration between the two fields during the events. attendants essentially listen to talks and leave, without having a genuine opportunity to engage with other perspectives.

as a way to tackle the problem, we came up with a three-part solution which would hopefully resolve the issue and encourage long-term collaboration. this took the form of a 3-day experience comprising of 3 steps.
II.
collaboration
︎
workshop


III.
relationship
︎
online platform


the experience itself was called deus x and was inspired by the growing impact of live action role-playing games (LARP) as a way of bringing people together and strengthening inter-personal relationships.

I. the event part of the experience was thus built around a narrative where a team of scientists and ethicists have been brought together to save humanity from surrendering authority to artificial intelligence. it was created around a system of rooms with enigmas to solve, encouraging cooperation and empathy.
II. the workshop part is meant to take place on the second day, following the event, in an auditorium setting. ideally, it would spark collaboration through a guided challenge with a closer link to reality, allowing for groups to form based on shared ideas.

III. the online platform would be a way for participants to keep contact with one another and to keep the conversation going. through the experience's website, participants could access their session's discussion forum with a library of ressources, encouraging long-term relationship.

︎


a visualization around the topic was also created to communicate on the current state & popularity of artificial intelligence.




project was guided by maurits montanez.
created with michelle rios & albert shyong.